Supporting good causes
Connecting for good is our purpose and having a positive impact on Irish communities is a strategic priority for us.
With our tech expertise and our fundraising drives, we've recently supported the vital work of over 30 charitable organisations. As an employer of choice, we encourage our employees to take three days out to volunteer in their communities, and we provide a Payroll Giving Scheme to enable them to donate to charitable causes which we then match-fund.
BT Shop for Change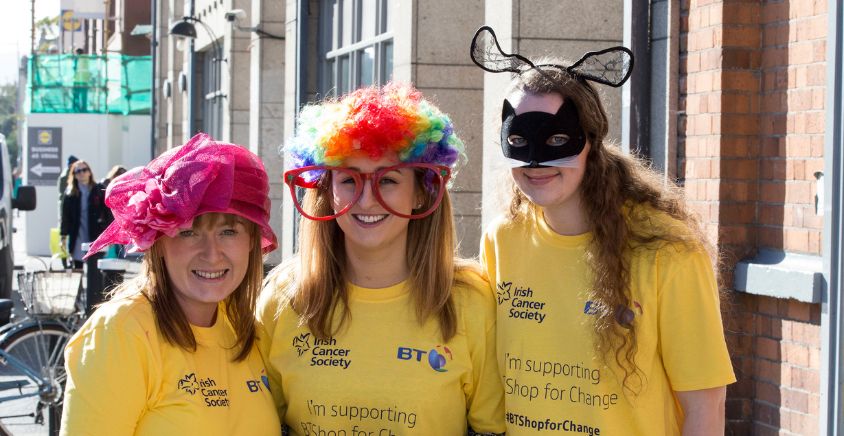 We're proud supporters of the Irish Cancer Society through our BT Shop for Change initiative since 2012. Each year, over one day in October, our colleagues swap the day job for the charity store in a bid to raise as much money as possible for the Irish Cancer Society's vital work in research, support and care for those living with cancer and their families. During the Covid-19 pandemic in 2020 and 2021, when we couldn't physically visit the Irish Cancer Society shops, we raised over €90,000 worth of donated clothing and items for the charity shops. In total, this fantastic initiative has succeeded in raising almost €1 million for the Irish Cancer Society.

Payroll Giving
When companies and its people join forces, amazing things happen and BT's payroll giving scheme 'Give As You Earn' is just one of the many examples of this. For every euro donated by a BT employee through their annual salary, BT will match that amount. Since 2015, we've donated over €500,000 to community and charitable organisations through Give As You Earn, including Focus Ireland, Aoibheann's Pink Tie, Blossom Ireland, DeterMND, Temple Street, the RNLI, Dublin Rape Crisis Centre, BelongTo, ARC Cancer Care Centres, and much, much more.

BT Activity Day

We love a good reason to get away from the desk and give back to the communities in which we operate. BT Activity Day enables colleagues to get active while fundraising for deterMND and Bumbleance, just two of the not-for-profit organisations that our close to our hearts. Cycling, walking, swimming, golf, dancing in your chair, whatever helps colleagues to unwind and unplug is welcomed.