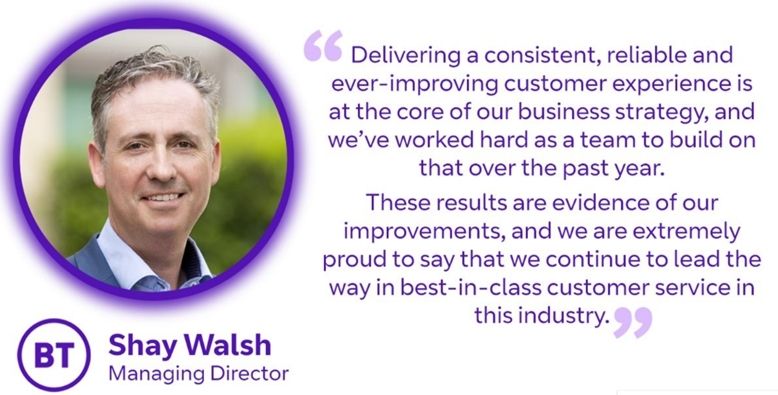 Our latest CX results
Our latest cx scores from Deep-Insight highlighted our leadership in customer experience and the progress we are making in that area.
6.0 Customer relationship quality (CRQ), meaning we have satisfied customers, driven by the commitment of our people delivering standout customer experiences- Note: CRQ is a measurement scale from 1 to 7
+46 Net Promote Score, meaning our customers actively recommend us - Note: NPS is a measurement scale from -100 to +100
72% of our customers are ambassadors, this means our customers value their service and would openly recommend BT Ireland to others
What our customers have to say

Key to the success of our CX strategy has been implementing a continuous improvement mindset. We refuse to stand still when it comes to our customers' experience. We are dedicated to improving, striving to surpass customer demand while ensuring we are easy to deal with.

We were delighted to hear from our customers in our recent CX survey.
Their feedback gives us the power to make things brilliant.
Accommodating, flexible and reacts to the business demands
Professional company with a large range of services, reliable and trustworthy
I regard them as the most engaging and customer focused of all the other carriers
Award Winning Customer Experience
Our focus on CX has been recognised recently, reflecting the unbelievable efforts of all teams within BT Ireland who make it their purpose to deliver a standout customer experience.