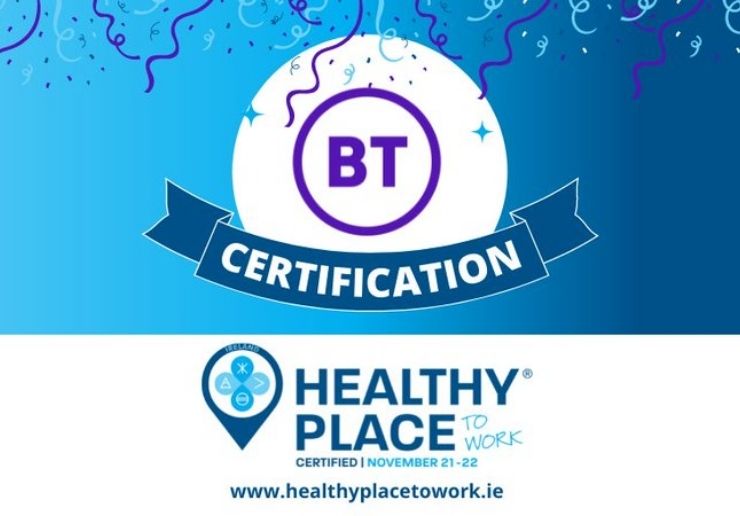 For the fourth consecutive year, BT Ireland has been officially certified as a Healthy Place to Work®, under the global healthy place to work standard. The certification is awarded to companies and their employees who lead the way in creating a healthy, high performing culture within their organisation.
A Healthy Place to Work® is one where people understand the purpose of their work and how it aligns with the organisation; are part of a learning environment where they can adapt and grow; have connections with others and the organisation that allow them to be at their best; and where people have the energy to sustainably deliver on their and the organisation's objectives.

Shay Walsh, managing director, BT Ireland said; "It's a huge source of pride for us in BT to achieve this certification four years in a row. There's no doubt that the last two years have been both physically and emotionally draining; and we've worked hard as an organisation to help our people feel supported and valued, even when working remotely.

The Healthy Place to Work framework has guided us in ensuring that we are continuously challenging ourselves to do better and be better as an employer, so to achieve this today shows we are on the right track. I'd like to take this opportunity to thank each and every person in our business for helping us be a Healthy Place to Work."
Fania Stoney, CEO and Co-Founder of Healthy Place to Work®, said, We are delighted to recognise BT Ireland as a Healthy Place to Work® again this year. Their certification is testament to their on-going focus and hard work in delivering and sustaining a healthy work environment for all their people. It is clear from their results that people in BT Ireland value their high-performance culture, while also feeling empowered to make good decisions to balance their work and personal life.
What continues to stand out in their approach is their shared sense of purpose and belonging, as well as the ability to maintain strong connections across the organisation, despite the challenges of how we worked and supported each other during the pandemic experience to date. They demonstrate a commitment to continuous improvement, and seek to listen, iterate and act based on their people's feedback. It is this action orientation that allows their approach to health and wellbeing to move in parallel with the business overall and support their people to sustainably deliver at their best."

In order to receive the award, BT Ireland employees were surveyed across the four pillars of the Healthy Place to Work Model: purpose, mental resilience, physical health, and connections. In each one, BT scored significantly higher than that of the average working population and other organisations who were surveyed in the study.