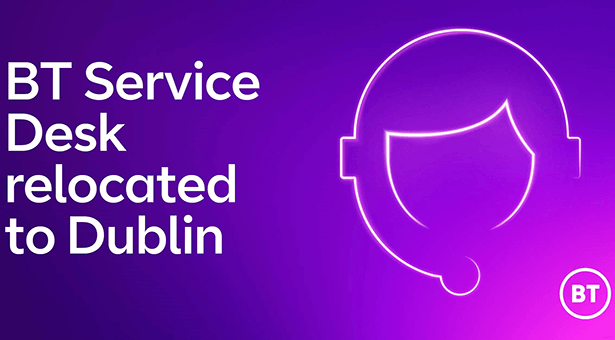 Barry O'Shea, Customer Experience & Transformation Manager, talks about how a consolidated approach to support is good for clients and another big step on BT Ireland's CX journey.
We recently relocated first-line Service Desk support, for nearly 400 BT customers, from two UK sites in Belfast and Thurso to one location in Dublin. The aim of this relocation was to simplify the service operating model for customers, giving them a better experience and aligning with BT Ireland's strategic focus on improving CX (Customer Experience).
Having cross-functional teams located in the same Service Desk site means fewer handoffs and improved response times – effectively reducing the effort needed to get an issue resolved. "Simplifying the support journey is an example of how we have listened and acted on what our customers have told us," said Barry O'Shea, Customer Experience & Transformation Manager, BT Ireland. "It's good for our customers, which mean it's also good for our business."
He described how first steps in the relocation involved aligning and then onboarding client contracts and the customer inventory to the Service Desk team. The process was delivered with minimal disruption and did not involve the movement of any BT employees. "The customer experience was protected at all times, a great testament to all the teams and of course our customers for embracing the change," he said.
Listening to customers
Going forward, a culture of improved collaboration across the support teams will enhance the customer's experience. This is a big part of our company-wide effort to create better engagements and make it simpler for customers to do business with BT. In the last decade, we've been working with Deep-Insight, a leading European B2B Customer Experience company, to explore different ways of becoming more customer-centric. We understand that working with large organisations often isn't simple, so centralising our teams was a way for us to streamline our services, with customer convenience being central to the project. O'Shea stressed that the initiative was a direct response to feedback that emerged through wide ranging surveys and Customer Relationship Quality scoring, where the primary goal was to improve first-line support.
With everyone in the Service Desk under one roof, the next step was to improve problem management, and build up the investigative analysis capability to allow faster issue resolution. Account managers are fully involved in the CX mission and have been carefully monitoring the progress, ensuring that customers went through simplified journeys when tickets were raised.
There is always more complexity for global clients who take multiple services. And when support was distributed across two sites, there was a risk that multiple contact details could lead to confusion; that frontline BT agents might not have the right email or phone number to talk through a specific issue. "Consolidating into Dublin solved that problem," said O'Shea. "With one set of contacts and any updates made through the central service desk, we can always get the right person at the right time."
Continual improvement
Another benefit has been a general upskilling of people in the team. Having the whole team in one location makes it easier to share knowledge and train people on new products and services. Dublin had previously been the hub for second-line support, used when first-line agents in Belfast and Thurso had to escalate a problem they were unable to solve. Having everyone in the same operations centre encourages a culture of continual improvement, with first-line support learning from having close proximity to second-line expertise.
When one location serves so many customers, it also makes it easier to analyse recurring problems and fix them before they impact on other clients. Down the road the plan is to evolve and leverage new technologies to make incident reporting faster and more effective. A proof-of-concept is currently underway for a 'Guided Resolution' programme, which automates parts of the engagement to make the incident reporting journey faster and more effective.
"With everything under one umbrella we can hone the Service Desk function and upscale our capabilities," said O'Shea. "Running it out of a single location also helps make a better business case for investing in new tools that are transforming the industry. There is a move towards using AI in preventative maintenance which is something we are in a much better place to develop."