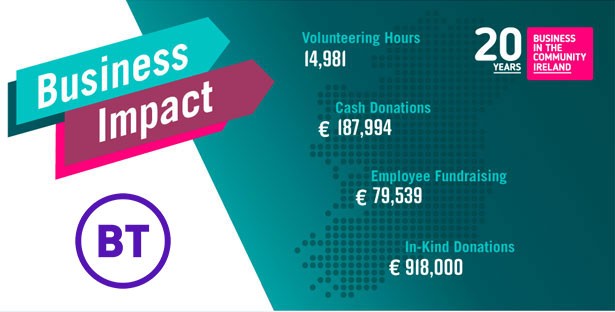 BT employees across Ireland devoted 14,981 hours to volunteering for local causes in the community in 2019, according to the annual Business Impact Map report published by Business in the Community this week.
The Map also reveals that BT contributed €187,994 in corporate donations, €75,539 in employee fundraising and €918,000 through in kind donations in the year. The results of the Business Impact Map sees BT rank as the third highest company for volunteering across the 63 companies who participated in the Business Impact Map report.
Amongst the initiatives that BT supports through its corporate responsibility programme each year is the annual BT Young Scientist & Technology Exhibition, an event which BT organises depends entirely on the support of employee volunteering each year. January 2020 marked BT's 20th year as custodian of this national treasure and more details on BT's support of this Exhibition can be found here. BT also supports numerous other charities and local causes through initiatives like BT Shop for Change for the Irish Cancer Society, its payroll giving scheme and its BT Wheelers cycling group.
Commenting on the results, Shay Walsh managing director, BT Ireland said "I am incredibly proud of the collaborative effort made by our employees to graciously give their time to causes that they are passionate about. It is a testament to the culture we have in BT that our people are committed to giving back and it is something that BT, as a company, encourages through initiatives like our payroll giving scheme, our support of major initiatives like BTYSTE and our 3 days volunteering leave for every employee every year."
He continued, "Congratulations to all of the companies on their achievements outlined in this year's Business' Impact Map, it is heartening to see the figures and the positive impact that industry can make in society through its corporate responsibility programmes."
The data was captured by Business in the Community Ireland (BITCI), a business network that advises Ireland's top companies on corporate social responsibility and sustainability. The data is featured on an online 'Business Impact Map which gives a breakdown of how collaboratively all 63 companies and their employees supported local community groups and charities during 2019.
The overall Business Impact Map shows that over €19.6 million was given in cash donations; €12.1 million was contributed through in-kind donations and over €6.1 million was raised through employee fundraising. Employees also volunteered over 341,856 hours to local groups and projects during the year.