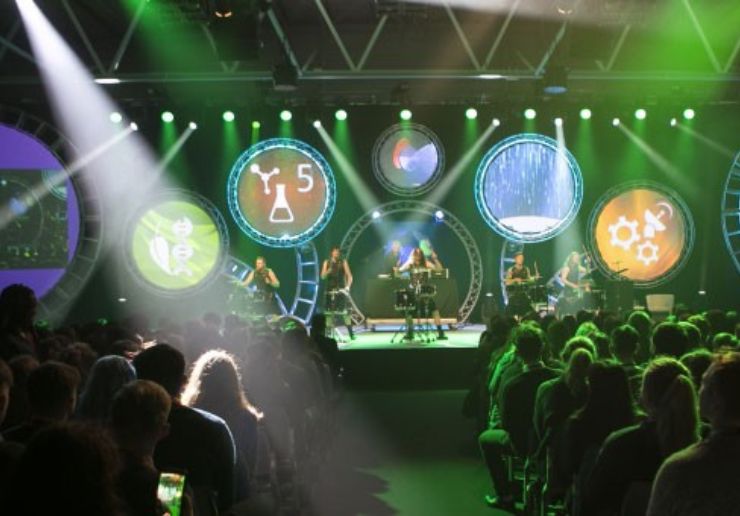 #CreateTodayShapeTomorrow
Students across Ireland are today being invited to submit their entries to the 56th BT Young Scientist & Technology Exhibition (BTYSTE) before the deadline date of 24th September, 2019. BT Ireland, organisers of the Exhibition are calling on students aged 12-19 to submit their one page proposal to be in with a chance to represent their school and county at national level in the RDS, Dublin from 8-11th January, 2020.
With over 200 prizes to be won, including the coveted title of BT Young Scientist & Technologist (s) of the Year, qualifying students will also be given a public spotlight on which to showcase their projects at the main Exhibition, a platform which has launched the careers of many of Ireland's most successful entrepreneurs and academics including Stripe founders Patrick and John Collison (Stripe), Kate and Annie Madden (Fenu Health), and Rhona Togher and Eimear O'Carroll (Restored Hearing).
What began in 1965 as a simple fair designed to inspire a love of science is today the country's national celebration of science and technology at school level, and a critical component of the government's STEM (Science, Technology, Engineering and Maths) skills programme. The Exhibition is designed to inspire young people to better understand the opportunities that a career in a STEM related field can offer. And in this rapidly changing world where 60% of children entering primary school today will work in jobs that do not yet exist (Ibec, 2018), there is an increasing need to have the skills and knowledge needed to build, enhance and protect our future economy.
This year, the number of Leaving Cert students opting for STEM-related third level courses increased significantly, and for many students, the BTYSTE is a first step towards an exciting career in science and technology. In 2018, BT Ireland commissioned a survey which showed that 77% of students who participated in BTYSTE went on to study science and/or technology at third level proving the positive influence the Exhibition has on third level subject choices in this field.
The BTYSTE 2020 also marks BT Ireland's 20th year as organiser of the Exhibition. Professor Peter Taylor of the DCU Centre for Astrophysics and Relativity was part of the group who won the overall prize under BT's first year at the helm, and like several other alumni, he returns every year to judge in the Chemical, Physical and Mathematics category. Commenting on the value of the Exhibition he said: "The BTYSTE gives young people the chance to engage their imagination and their passion for STEM in developing a unique project. It takes learning out of the classroom and gives students the autonomy to explore the art of problem-solving, which is the heartbeat of all science. As a judge, each year it is a delight to see projects combine the robust methods of STEM in a novel or creative way to problems the students are clearly passionate about. I am calling on all students and teachers to get their entry together to submit before the deadline of September 24th. It is an amazing experience that you will not soon forget.
Shay Walsh, Managing Director of BT Ireland said: "We are incredibly proud to be marking our 20th year as organiser of the BTYSTE because we know that when you give a young student a platform to shine, they thrive. We have an incredible alumni group, many of who are literally changing the world through their work, and we are excited to see what the class of 2020 are going to bring to the Exhibition in January. I wish all the students the very best of luck in the coming weeks as they finalise their project ideas."
The competition is open to second level students across the island of Ireland, who are aged between 12 and 19 years on 31st October 2019. Once students have chosen their idea, carried out some research and defined their problem - it is time to write their one-page proposal.
Students have the option to enter as an individual or as a group into any of the four categories: Biological & Ecological Sciences, Chemical, Physical & Mathematics Sciences, Social & Behavioural Sciences and Technology. They must then upload their one-page proposal to www.btyoungscientist.com by midnight Tuesday, September 24th, 2019.
The BT Young Scientist & Technology Exhibition and The Primary Science Fair will take place from the 8th – 11th January 2020 at the RDS in Dublin. The winner of the overall BT Young Scientist & Technologist of the Year will walk away with the BTYSTE perpetual trophy, a prize fund of €7,500 and will go on to represent Ireland at the European Union Contest for Young Scientists in Salamanca, Spain in September 2020.
For more information on the BTYSTE and for details on how to enter, log onto www.btyoungscientist.com or follow @BTYSTE on Twitter, Facebook, Instagram and Snapchat .