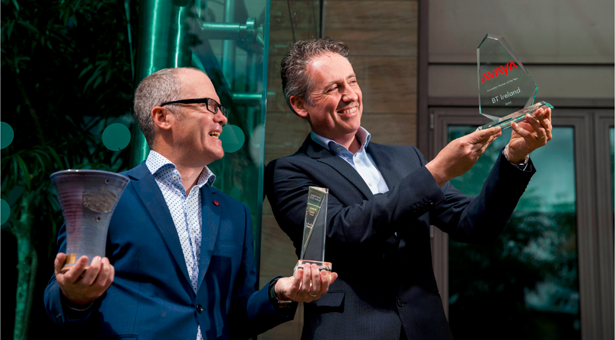 Shay Walsh, managing director, BT Ireland with Matt Forde, Head of IT Product Supply, BT Ireland, pictured with the three partner awards received by BT Ireland this month.
It's a hat trick for BT Ireland at Cisco, Avaya and Dell Partner Awards
BT Ireland has strengthened its reputation for excellence after the company picked up three prestigious partner awards from global players Cisco, Dell and Avaya last month.
The company was awarded Gold Partner of the Year by Cisco in recognition of its revenue growth and the successful deployment of complex projects both locally and internationally. BT was also commended for its skills across the full range of Cisco solutions including Cloud Unified Communications and Contact Centre, Next Generation LAN, and for Security and Data Centre services.
Subsequently in May, at the Avaya partner awards, BT Ireland was named Innovation Partner of the Year in recognition of the successful delivery of a hybrid cloud UC and Contact Centre Solution for one of Ireland's largest insurance companies.
Then finally, just last week, BT was awarded Dell's Services Partner of the Year for the successful delivery and implementation of a number of high profile complex projects in partnership with the IT giant.
Shay Walsh, managing director of BT Ireland said, "To be recognised at such scale by the industry is a huge honour and I'd like to thank Cisco, Dell and Avaya for their valued partnerships with BT and the local team here who manage these relationships. These awards are a direct reflection of our continued pursuit of excellence in how we innovate and market new technologies and deliver a world class service to our customers.
BT Ireland is the country's second largest fixed line communications provider and employs more than 600 people in the Republic of Ireland. The company recently published its full year financial results to 31st March 2019, reporting a 1% increase in underlying revenue £338.5 million excluding transit revenue and the impact of foreign exchange movements. Profit* was up 5% year on year. For more information on BT Ireland visit www.btireland.com