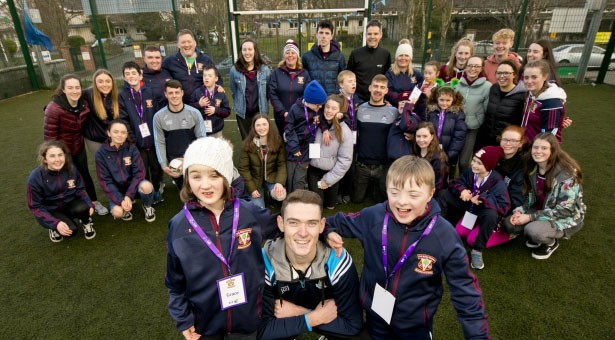 Padraig Whelton, Senior Finance Manager at BT Ireland, is pictured with the Raheny GAA 'All Stars' Football Team and All-Ireland winner, Brian Fenton. BT Ireland is delighted to support this incredible initiative by Raheny GAA to make GAA more accessible and inclusive for everyone.
The All Stars team, which was set up by a group of parents, is made up of boys and girls who have various degrees of intellectual disability from Down Syndrome to Asperger's to ADHD and Autism. Through the generosity of people giving up their own time, including transition year students from the local area and coaches, the team has benefited from nearly one-to-one coaching for each child. The donation from BT Ireland was secured through the company's Give As You Earn (GAYE) scheme and has allowed the team to get equipment and uniforms which gives them an identity so they feel just like other teams in the club.
Speaking at tonight's event, Richie O'Leary, founding member of Raheny All Stars and IT Business Analyst at BT Ireland, said "The Raheny All Stars is a safe place to bring our children for an hour on a Friday evening, and it could be so much more because the kids have lots of potential and we are just trying to find ways and means to bring that out. This funding from BT will only enhance that. My daughter Amy is non-verbal, has ADHD, takes anxiety and panic attacks and is prone to self-harm during those anxiety attacks. Other children don't like to be over-crowded, while others need to be in a crowd, so on a typical Friday evening when we have 14-18 children, we need almost the same number of adults to assist in the training of the children."
BT Ireland supports the charity sector in a number of ways, over the last six years the company has raised €683,840 for the Irish Cancer Society and Marie Curie NI. Since January 2017 BT Ireland through the GAYE scheme has donated nearly €80,000 to a number charities, outside of the Irish Cancer Society partnership, nearly double the amount donated by the company last year.