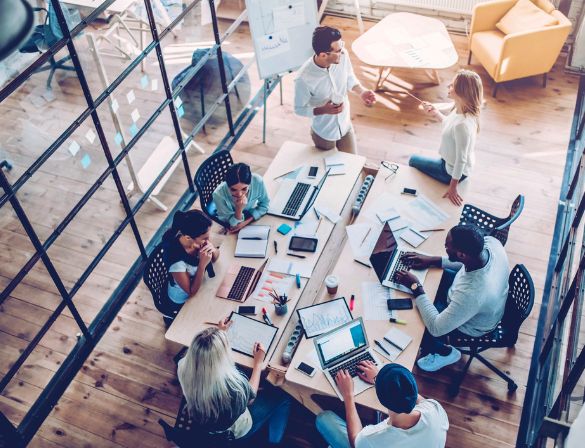 For over a decade we have been on a customer experience (CX) transformation journey, because what matters most is what our customers think of us. In the year of the pandemic, when business relationships have been tested to their limits, we are delighted to hear that our customers feel more engaged and satisfied with our services than ever before.
With a 2021 Net Promoter Score of +51, between -100 and +100, and a Customer Relationship Quality score of 5.9 out of 7, we're making strong headway in improving both our service delivery and the quality of our relationships. We're also ranked in the top 10% of customer service companies by Deep-Insight, a leading business-to-business CX expert, a badge we wear with pride because it's been hard earned.
Shifting demands
Back in 2008, we had some unsatisfied customers, and set out on a journey to address our shortfalls. Compounding the challenge was technological change that was about go into overdrive, first with cloud services and then with digital transformation. Businesses were starting to look to technology providers for new agility and an ability to scale and grow more quickly.
We were right in the middle of this emerging landscape, integrating telecoms infrastructure with cloud platforms and data centres, sharing knowledge and developing products and services to support customers on their journeys. There were regulatory as well as technology challenges for our customers and the whole concept of CX was rising to the top of everybody's agenda.
To give our customers a better experience, we took advice from Deep-Insight and set about creating a new BT culture, where CX would be embedded in everything we do. Leadership buy-in is pivotal for advancing any kind of organisational change; CX is no exception which is why Shay Walsh, MD of BT Ireland, is such a strong advocate of the programme internally.
Follow-through has also been key. Listening to customer feedback, taking it onboard, learning lessons and moving forward. We realised that to execute properly and achieve real and lasting change we needed to embed a customer-centric culture across the whole organisation and stitch it into the fabric of every client engagement. It's all very well talking about CX, but how do you make it part of day-to-day operations?
Changing the culture
To encourage greater participation in the CX concept, we worked with Deep-Insight on a number of initiatives. You can't manage what you can't measure, so we set about creating dashboard metrics and governance structures. This ensured resources and relevant training were made available to improve our people's understanding of the role that CX plays in well-executed projects.
There was also a shift in sales to more strategic engagements, taking more time to match products and services to customer expectations. They told us they wanted us to be proactive, nimble and innovative. We responded and focused on making our approach to service delivery more innovative and agile, and we can see our customers are responding well to the faster pace.
The pursuit of improvement never stops. Just in the last year we have set up a dedicated team of CX champions to take our strategy to the next level. As Director of Customer Service, I work closely with Barry O'Shea (Customer Experience & Transformation Manager), Deirdre Tyrrell (Customer Experience Manager) and Mary McDonagh (Senior Manager, Strategy & Implement, Customer Service), to drive continued digital transformation to meet our customer's increasing business requirements.
The team has given our CX mission a renewed sense of purpose at an important time. We look forward to further pushing the limits to deliver service excellence, as our customers emerge from lockdown and enter a new phase of growth and development.