Taoiseach amongst those meeting Ireland's best & brightest at the RDS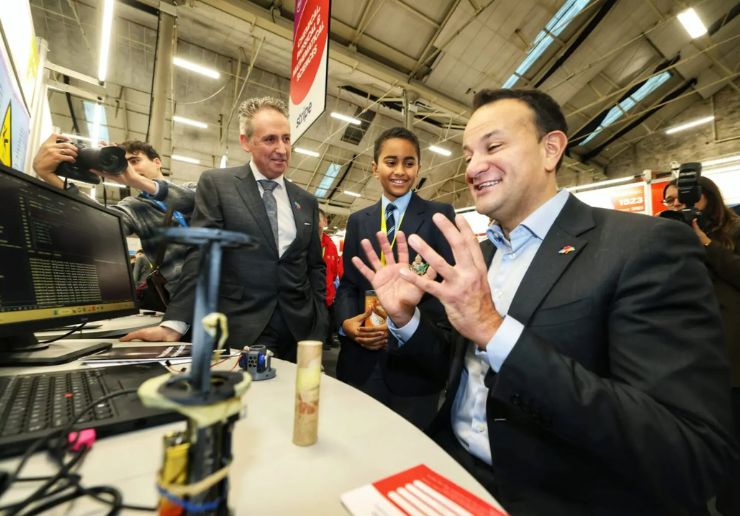 See Thursday's highlights video here

Limited tickets still available here

The atmosphere is electric at the RDS, as the final day of the BT Young Scientist & Technology Exhibition 2023 gets underway. All eyes are on this evening's awards ceremony, where the winner(s) of the 59th BT Young Scientist & Technology Exhibition will finally be announced! The panel of expert judges are doing their last rounds of project assessments, before beginning their final deliberations to decide who will be crowned the 2023 BTYSTE winner(s).

Over the course of the week, over 1,100 students hailing from all over the country have showcased their projects, which span the categories of technology, biological and ecological science, social behavioural sciences, and chemical, physical, and mathematical sciences. 550 projects in total have been on display, with students sharing some of their thought-provoking discoveries with the BTYSTE judges as well as the public.

Speaking ahead of this evening's awards ceremony, Mari Cahalane, Head of the BT Young Scientist & Technology Exhibition said "I don't envy the panel of judges who are tasked with choosing this year's winner! The competition really is fierce – and students taking part in this year's exhibition have truly blown us away with the high calibre of talent, creativity and innovation evident through their projects.

She added "Each and every student participating in the exhibition should be immensely proud of the quality of work they have produced this year."

The awards ceremony will begin at 5.30pm this evening, with the winner(s) of the BT Young Scientist & Technology Exhibition due to be announced at around 7pm. Audiences around the world will also be able to tune in, free of charge, to watch as the ceremony unfolds through the BTYSTE portal or on Facebook Live.


If you have any further queries, require information or would like to coordinate any interviews, please don't hesitate to contact the following: 

Hanover Communications for BTYSTE: btyste@hanovercomms.com

Claire Regan: cregan@hanovercomms.com / 086 2093536

Lorna Jennings: ljennings@hanovercomms.com / 086 363 0576

BT Young Scientist & Technology Exhibition

The BT Young Scientist & Technology Exhibition is much more than a competition – it is the experience of a lifetime for the students and teachers who take part. Designed to raise schools' engagement in the critical subjects of science, technology, engineering, and maths (STEM), the Exhibition calls upon students aged 12-19 years from all over the island of Ireland to showcase innovative science and technology project. In 2022, the Exhibition reached almost 8 million visitors around the world through its virtual portal. The BT Young Scientist & Technology Exhibition is supported by several valued partners including the Department of Education, Analog Devices, Horizon, Stripe, and RTE. Learn more at www.btyoungscientist.com


About BT

BT Group is the UK's leading provider of fixed and mobile telecommunications and related secure digital products, solutions and services. We also provide managed telecommunications, security and network and IT infrastructure services to customers across 180 countries.

BT Group consists of three customer-facing units: Consumer serves individuals and families in the UK; BT Business* covers companies and public services in the UK and internationally; Openreach is an independently governed, wholly owned subsidiary wholesaling fixed access infrastructure services to its customers – over 650 communication providers across the UK.

British Telecommunications plc is a wholly owned subsidiary of BT Group plc and encompasses virtually all businesses and assets of the BT Group. BT Group plc is listed on the London Stock Exchange.

For more information, visit www.bt.com/about.

*BT Business was formed on 1 January 2023 from the combination of the former Enterprise and Global units. It will commence reporting as a single unit from 1 April 2023, with pro forma reporting information to be produced ahead of BT Group's Q1 FY24 results.