Tickets for the BT Young Scientist & Technology Exhibition are available here
Over 1,100 school students travel to Dublin's RDS tomorrow for the 59th BT Young Scientist & Technology Exhibition (BTYSTE). The prestigious event, which showcases research and innovation in science, technology, engineering and maths (STEM, will be in person this year for the first time since 2020, following two successful virtual exhibitions.
President of Ireland Michael D. Higgins will officially open the 2023 exhibition tomorrow at a special ceremony for the students, teachers, and exhibition partners. The ceremony will also be streamed live on the BTYSTE website and on Facebook Live from 2pm.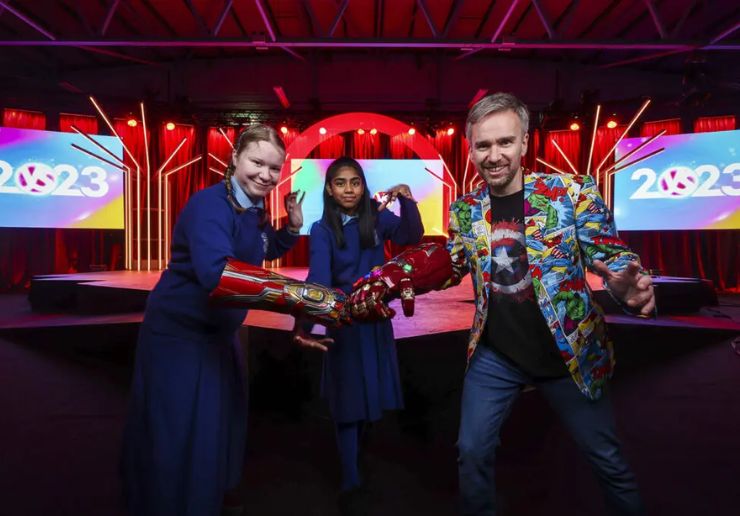 Speaking ahead of the exhibition, President Michael D. Higgins said, "May I offer my best wishes and good luck to all of the students participating in this year's BT Young Scientist & Technology Exhibition, and may I pay a special tribute to all those teachers and parents who have been such an essential source of encouragement as well as all those who have played a role in organising this year's event. What a great time it is to be a young scientist – challenging, yes, but so potentially fulfilling to know that the choices you make will have effects that are important, not just for your own time but for the very possibility of life in its diverse forms, on our vulnerable planet. May I suggest to all of you that as a young scientist, you will be at your best, achieve the greatest fulfilment for yourself and others, when you locate your contribution within a commitment to be concerned and contributing global citizens."
Organised by BT Ireland, the exhibition has become one of the leading school STEM exhibitions in Europe, attracting over 100,000 student participants since the first event in 1965. Shay Walsh, Managing Director, BT Ireland said, "BT Ireland is delighted to provide this platform for school students to share their extraordinary ideas. During our 23 years as custodian, I am always amazed by the high calibre of the projects on show, addressing some of the major challenges our world is currently facing. I wish the students the best of luck this week, and hope they take brilliant memories from this unique exhibition.'
"For anyone looking for inspiration and a tonic in January, I'd encourage them to visit and be uplifted by these young people and their talent."
At the heart of the exhibition are the 550 projects from 212 schools which span the categories of Technology; Biological and Ecological Sciences; Social and Behavioural Sciences; and Chemical, Physical and Mathematical Sciences.
Following judging by the 80 plus-person judging panel, the BT Young Scientist(s) & Technologist(s) of the Year 2023 will be announced at an awards ceremony on Friday 13th January at 5:30pm. The overall prize winner(s) will receive the BTYSTE perpetual trophy and be presented with a cheque for €7,500. The winner(s) will go forward to represent Ireland at the European Union Contest for Young Scientists in Brussels in September.
Also taking place alongside the BTYSTE is the Primary Science Fair, now in its 21st year, bringing together hundreds of primary students from across Ireland to the RDS on Thursday 12th and Friday 13th to showcase their projects. The Primary Science Fair plays a pivotal role in the primary academic calendar in Ireland and allows our very young scientists to tackle issues with science and technology and develop their love of discovery too.
The exhibition opens to the public on Thursday 12th until Saturday 14th January when a fantastic festival of science can be experienced alongside the brilliant student projects on display.
Tickets can be purchased online or at the venue. Visitors can plan their visit to the RDS in advance by downloading the free BT Young Scientist & Technology Exhibition app, available on Android and Apple devices. Full of helpful information, the app includes an exhibition map, a search tool for student projects and exhibitors, a schedule of events, as well as links to the BTYSTE social networks for live updates throughout the event.
For more information, visit www.btyoungscientist.com
[ENDS]
If you have any further queries, require information or would like to coordinate any interviews, please don't hesitate to contact the following: 
Hanover Communications for BTYSTE: btyste@hanovercomms.com
Claire Regan: cregan@hanovercomms.com / 086 209 3536
Lorna Jennings: ljennings@hanovercomms.com / 086 363 0576
Heather Bruton: hbruton@hanovercomms.com / 083 459 8173
BT Young Scientist & Technology Exhibition
The BT Young Scientist & Technology Exhibition is much more than a competition – it is the experience of a lifetime for the students and teachers who take part. Designed to raise schools' engagement in the critical subjects of science, technology, engineering, and maths (STEM), the Exhibition calls upon students aged 12-19 years from all over the island of Ireland to showcase innovative science and technology project. In 2022, the Exhibition reached almost 8 million visitors around the world through its virtual portal. The BT Young Scientist & Technology Exhibition is supported by several valued partners including the Department of Education, Analog Devices, Horizon, Stripe, and RTE. Learn more at www.btyoungscientist.com
About BT
BT Group is the UK's leading provider of fixed and mobile telecommunications and related secure digital products, solutions and services. We also provide managed telecommunications, security and network and IT infrastructure services to customers across 180 countries.
BT Group consists of three customer-facing units: Consumer serves individuals and families in the UK; BT Business* covers companies and public services in the UK and internationally; Openreach is an independently governed, wholly owned subsidiary wholesaling fixed access infrastructure services to its customers – over 650 communication providers across the UK.
British Telecommunications plc is a wholly owned subsidiary of BT Group plc and encompasses virtually all businesses and assets of the BT Group. BT Group plc is listed on the London Stock Exchange.
For more information, visit www.bt.com/about.
*BT Business was formed on 1 January 2023 from the combination of the former Enterprise and Global units. It will commence reporting as a single unit from 1 April 2023, with pro forma reporting information to be produced ahead of BT Group's Q1 FY24 results.