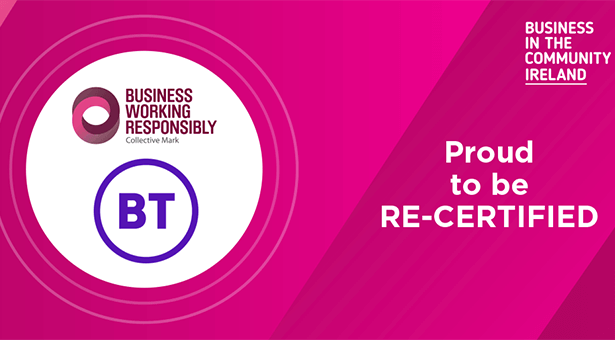 We're proud to announce that we've been officially re-certified with the Business Working Responsibly Mark, the top sustainability and CSR standard in Ireland.
BT is one of only 46 companies in the country to have this prestigious certification. Designed by Business in the Community Ireland and independently audited by the National Standards Authority, the process involved a comprehensive root and branch review of our CSR and sustainability systems and processes. To pass it successfully is a true validation of our investment and commitment.
Our whole purpose is to 'connect for good' and the connections we make are helping to solve the world's biggest challenges, such as cybersecurity, the global pandemic and climate change. Our focus is on accelerating growth through technology that is responsible, inclusive and sustainable and we've set ourselves ambitious goals such as being a net zero carbon emissions business by 2030 (business operations). It's increasingly important to all of our stakeholder groups, including our colleagues and customers, and each of us in BT plays a role.
Commenting on the certification, Shay Walsh, Managing Director, said "The Mark recognises the enormous effort that our people make across the business every day to ensure we fulfil our goal of being a responsible, inclusive and sustainable leader. In terms of continuous improvement, BITC's new root and branch process, helped us to find additional ways to embed sustainability throughout our business in Ireland for the benefit of our customers, employees and communities."
Over the course of seven months, twenty-two indicators of our business were examined, among them, governance, flexible working, responsible products and information, customer engagement, energy management, diversity and inclusion, corporate giving, organisational change management, and staff well-being.
Sustainability and social responsibility are embedded throughout BT's strategic framework. To read more about how the Mark supported our continuous improvement journey, you can read our Business in the Community case study here.