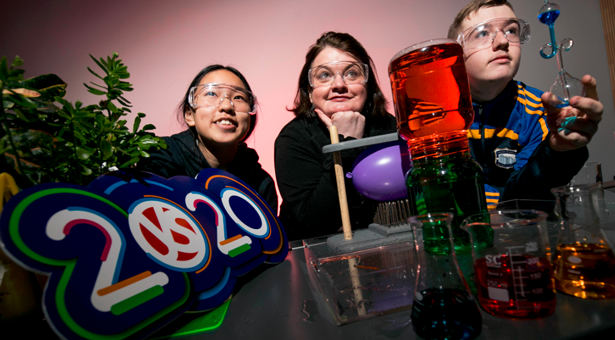 A host of national and international science shows including Unbelievable Science by Morgan and West, Physics of Breakdancing, Airmazing and World of Robots
550 awe-inspiring student projects on display
The Primary Science Fair returns from 9-11th January
The countdown is on to Ireland's most exciting festival of science and technology, which takes place from 8-11th January at the RDS, Dublin. The BT Young Scientist & Technology Exhibition, now in its 56th year, is a fun-filled spectacle of creativity and inspiration, offering something for people of all ages.
At the heart of the Exhibition are the 1,100 students representing 244 schools across the island of Ireland who will compete for the coveted title of BT Young Scientist & Technologist(s) of the Year 2020.
In addition to the 550 exhibiting projects, there is a thrilling line-up of science shows guaranteed to blow the mind including:
"Morgan & West"s Unbelievable Science – a captivating show filled with phenomenal thrills, chemical spills and a risk assessment that gives their stage manager chills
"Airmazing", a fast paced, interactive show exploring the existence, composition and springiness of the air
"Physics of Breakdancing", where science and dance collide in a high energy fusion of physics and breakdancing,
"3D-Space Challenges & Exploration", a show that examines space hazards and how to overcome them – immerse yourself in this heart thumping 3D experience!
"World of Robots" –They're back by popular demand for 2020! They clash, spin and flip. Sparks will fly in this ultimate action-packed family show
Mari Cahalane head of BT Young Scientist and Technology Exhibition said: "We have a fantastic line-up of shows and exhibits this January as we celebrate the 56th annual BT Young Scientist & Technology Exhibition. With over 50,000 visitors expected across the three public days of the Exhibition we'd encourage everyone interested in coming along to book their tickets early to avoid disappointment.
There is no better way to kick start the New Year than to take a look at the future of science and technology and immerse yourselves in the creative projects that will be on display that week. It's a family event, with something for all ages to be inspired by."
In addition to the core Exhibition, the Primary Science Fair will also take place at the BT Young Scientist & Technology Exhibition from the 9th -11th January 2020. The Primary Science Fair has been an exciting part of the internationally renowned BT Young Scientist & Technology Exhibition for over 16 years and continues to play a pivotal role in the primary academic calendar in Ireland. The Fair is designed to instil an early love of science and discovery in primary school students across Ireland.
Tickets for the 2020 BT Young Scientist & Technology Exhibition are on sale now at www.btyoungscientist.com. For more information on this fantastic family event, visit www.btyoungscientist.com, or follow @BTYSTE on Facebook, Instagram, Twitter, YouTube or Snapchat (username: BTYSTE).