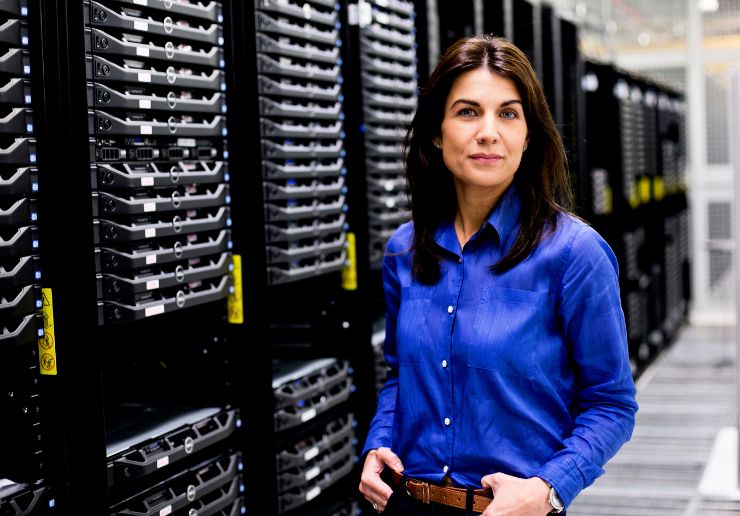 Stepping stones: Fiona Hughes
My name is Fiona Hughes and I am currently the Sales Operations and Compute Propositions Manager in the Data Centre Practice. I have been in BT for 16 years successfully progressing through a number of exciting different roles throughout my time.
A Dublin native, I am the youngest of six children. I'm married to Mark and have two wonderful children, Harry and Rachel, who support Galway like their dad.
What led you to your career?
I graduated from UCD with a degree in Economics and Spanish, followed by a Post Grad in Business Studies. My father was an entrepreneur running multiple successful businesses, so from a very young age business was in my blood. My first job was at a pioneering Internet start-up business during the dotcom boom. It was an exhilarating time which set me on my path for a career in technology. Before moving to BT, I worked in Sales and Marketing roles in Compaq/Hewlett Packard who at the time were at the forefront of the technology industry. I joined BT as an Account Manager in the Finance sector sales team. My subsequent move to the Data Centre business 7 years ago has been incredibly rewarding. It's a growing business and as Propositions Manager, I'm excited by the road ahead in building out & evangelising BT's data centre and hybrid cloud solutions to our rapidly growing customer base.
Who has been your strongest influence in life?
In my life, I have been influenced by many of people, but no one has quite influenced me like my father. He grew up in post war Dublin in what was a very challenging and economically depressed environment. As a self-made businessman, his approach to work is best summed up by his favourite catch phrase 'The 6 P's (Prior Planning Prevents Pretty Poor Performance). It's an ethos that really helps me prioritise and focus on the important things I need to accomplish on both a personal and professional level.
What have your accomplishments thought you?
Sport is a great teacher of important life lessons and values. Gymnastics is my sport. I became All Ireland champion at the age of 12. The determination and resilience I needed to succeed and win national competitions has thought me that success doesn't just happen, it's a product of hard work and consistency. Once I stopped competing, I went into coaching and set up the Dublin Gymnastics Academy with my sister. It's so rewarding to be able to coach kids to be their best and show them that dedication and effort yields incredible dividend.
How does your role make you central to BT's purpose of Connect for Good?
I've recently expanded my role to support the data centre operations and technical resources along with my Compute Propositions Role. As a leader, I strive to help empower my team to realise their own potential and develop the know-how and skills that they need to flourish in today's environment.
How do you achieve work life balance?
The importance of work life balance cannot be underestimated especially as most of us spend such a huge percentage of our time at work. BT is great for work life balance, providing lots of flexible work options. I've always had the option to work from home so when Covid hit, it wasn't as disruptive for me as it may otherwise have been. However, working from home all the time made it more difficult to separate my work from my personal life. I took the opportunity to take parental leave in January 2022, adjusting my schedule to a three day work week. Taking parental leave was a game changer and afforded me greater control of my life, with more flexibility for my family. I've recently gone back to a five day week and not only am I a lot stricter with my time, but I've got a new job with more responsibilities! Taking the opportunity to recalibrate has been critical to this and has done me the world of good.
Can you share any advice you picked up on your career development?
Look for people, not for jobs to give you the best job satisfaction. Keep learning, it can change the way you think about things. Work life balance is not just a buzzword, it's real so embrace it. Perspective is key to everything we do and it's incredibly important to continually reflect not just upon where you want to go but also what you have achieved. We are the only ones holding ourselves back and it's easy to stay in your comfort zone. Personal accountability and knowing that you are in control of your own journey is a key step to a fulfilling career.
---